About me
"Art is like Life, or maybe Life is like Art, it's a fluid thing that you never know where is going to take you!"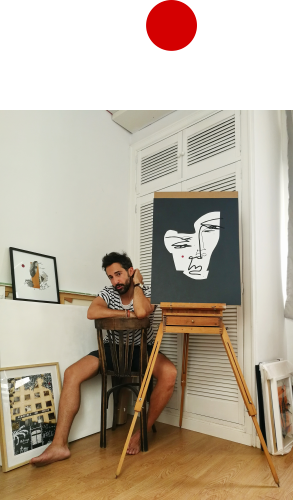 Spanish Andalusian artist from Jaén that lives and works in Madrid. Coming from a family of artists (Graphic Designer Father and Sister, History of Art graduated Mother and Aunt, Architect Grandfather, Art Collector Grandmother, Acrobat Brother, Abstract Painter Uncle, etc…) Developed my taste of aesthetics and my concern to create things.
By the year 2011, I had a very important approach to the art scene in Prague, where I was doing an internship. From Prague I came back to Spain with a huge desire of trying to show how I saw the world to other people. But it was going to be a few years later (year 2014) when I'd decided to quit my job and to start in something I could just dream about: trying to live of my Artworks.
My favourite technique is the collage, with mixed media. It gives me the chance of mix all the things I have in my mind and then make them eternal. As if my thoughts had a shape, the paper and other materials mixed with acrylic or oil paint become a reality on the canvas and that magical moment finally express things I cannot put down into words and make me connect with other people by the energy of sharing our feelings.
I started with portraits of iconic characters, then I took different people to create fiction characters, after that I painted jungles with humans inside or being part of them as an organic shape…following that I began to build imaginary cities and now I'm going to more abstract things, sculpture, jewellery. What does all this mean? Art is like Life, or maybe Life is like Art, it's a fluid thing that you never know where is going to take you!

I have collaborated with major fashion publications such as Telva, Vogue, Vanidad Magazine, El País Tentaciones, Cinemanía and DoubleView Mag. He has also collaborated with brands and artisans such as Bvlgari, Leandro Cano, Moisés Nieto, SmartLuxury, Live Heros, De Barro y Plata, Alfonso Góngora, Ubedíes and Arte del Olivo among others.
Thanks for visiting my home, I'd love you to follow my work and let's see where it goes.
Cheers!